You spend a lot of time on the road, driving to work, waiting in traffic, cruising on hot summer days and taking road trips. The warm California sun poses a danger to ourselves, our loved ones and our vehicles. UV rays can be damaging to your skin and your vehicles interior. Think about it - we surround ourselves with safety gear, like air bags, seat beats and anti lock brakes. Yet leave yourself, your loved ones and the interior of your car exposed to the sun's damaging UV rays.

Benefits of window tinting include
• heat rejection
• blocks out 99% of harmful UV rays
• reduces glare
• reduces interior fading
• enhances the appearance of your vehicle
• window film can also help hold together shattered glass in accidents

Find the tint that's right for you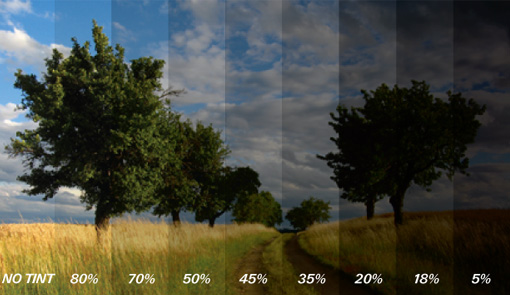 NOTE: The law on auto tint varies by state. Please to go to the International Window Film Association to check your state's laws or ask us about films approved for use on vehicles.




We are authorized dealers for 3M Color Stable, Crystalline, Suntek Carbon,CXP and Llumar CTX Ceramatrix films. Our film grades range from good, better and best based on their optical clarity, lifetime warranty and the materials used to process the film. We also carry Llumar Air Blue 80%, and the high performance 3M Crystalline 90% and 70% films, which are a very light to clear film primarily used to block out UV rays and are commonly installed on the front windows.
SunTek Carbon
SunTek's Carbon line of films provides superior results for customers looking for quality and performance.

• A proprietary construction that utilizes unique and innovative Carbon technology
• Non-reflective, "black" finish that will not fade
• Great solar performance with advanced UV protection
• No metal layers that can cause interference with cell phone, radio, or navigation system signals on high-end vehicles
• Lifetime Manufacturer's Warranty, that includes fading

3M Color Stable
3M Color Stable's appearance rivals tinted factory glass, never turns purple, and provides heat rejection with no signal interference! 3M's revolutionary nano-carbon polyester provides an incredible look, amazing color stability, and is non-metallized to ensure no signal interference.

• Maximum heat rejection - While most other window film companies buy their polyester from someone else, 3M makes their own polyester using a patented technology to produce a nano-carbon polyester. This allows for maximum heat rejection without a metallized film, which can interfere with radio and satellite signals.
• Outstanding color stability - it's so advanced that in time-based tests, 3M Color Stable films never turned purple while conventional dyed films rapidly changed to a purple color.
• Designed to reject solar heat produced from visible light - rejects up to 57% of the heat coming through your windows
• Provides significant glare relief - allowing only 5% to 50% of the light into your car.

Suntek CXP
A next generation window film, offering enhanced performance for high heat rejection films.
• The latest in non-metal, nano-hybrid, Carbon technology
• Non-reflective, "black" finish that will not fade
• Superior heat, infrared, and UV rejection for increased comfort
• Signal enabling technology that causes no interference with cell phone, radio, or navigation system signals
• Lifetime Manufacturer's warranty, that includes fading

LLumar CTX Ceramatrix
LLumar CTX Films utilize Ceramatrix™ Advanced Technology to provide superior UV absorption and heat rejection without blocking electronic signal transmissions.
LLumar Air Blue
The new LLumar 80% AIR Blue Nono-Ceramic films is terrific for windshields; being almost clear with great night time visibility and blocking 99% UV rays and 43% solar heat. This is the number one "add-on" you need for your car to achieve ultimate comfort.